Ghenh Rang- Tien Sa Resort
Wednesday - 24/05/2017 09:23
Located in the center of Quy Nhon city, Ghenh Rang resort is a beautful combination of vast sea and moutains with rocky landscape. Ghenh ang is a natural art with populations of rock close to the sea, rocks slamming so it is very attractive.
Han Mac Tu grave
The name of Ghenh Rang also contains the characteristics of the people here and curious people when first heard this strange name. Legend has it said that, whenever passing reefs, fishermen try to brake down the wind for boat to slow; to avoid the boat collided with the rocky cliffs. This action in the common language of fishermen is "rang" (try). Gradually, people read Ghenh Rang. A landscape is not only famous because of beauty, unique scenery but also famous by its rustic name.
Crossing Mong Cam slope, turning into the step road to the hill, in the middle of the jungle is the resting place of poet Han Mac Tu. The grave was built in a high mound, back in the moutain, and face to the sea. Han Mac Tu went away but he always lives in heart of the lovers of poetry. Many generations find to him, to Ghenh Rang to memorize and expressed his love for a talented poetry.
Next to Han Mac Tu grave, a craftman named Truong Dzu Kha vowed to bring his life to fire pen art, satisfying with the burning poetry of poem Han Mac Tu. He opened a small shop, using electric welding rod to write poems of Han Mac Tu on fragant pine wood, a gift for those who love talent of young poet.
Queen Beach (Eggs Beach)
In this resort population, there is Queen Beach (Eggs Beach), tourists will have an excellent feeling when put foot into round stone, smooth as giant bird eggs on the beach. Two sides are high stones like bodyguards who put their backs to stop big waves. In addition to, tourists will see familiar shape of the wife is waiting her husband with natural artwork Hon Chong. Along the rocky shore, tourists will see golden smooth sand with crescent shape and clear blue water, that is Tien Sa beach. Coming here, tourists are immersed in the space of green tree with the wind from sea; tourists will get experience themselves why this beach has a fairy name like this.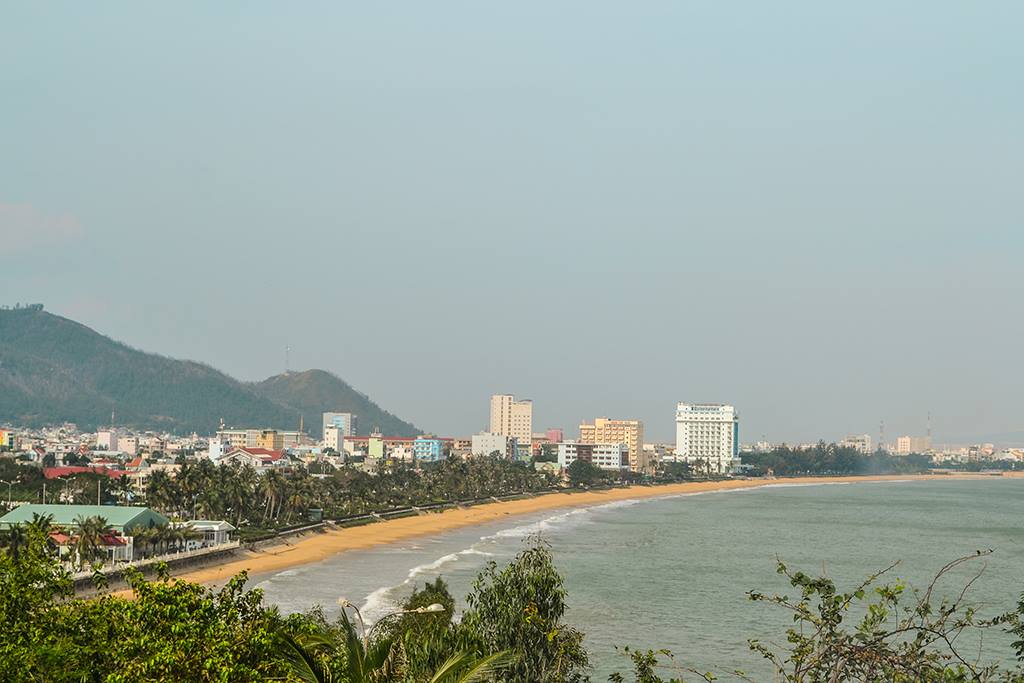 Quy Nhon city from poetry hill
Ghenh Rang not only attracts tourists by natural beauty but also let tourist keep nice memories because this is a place where Han Mac Tu's life spent, he will be always recalled as a part of this city, and it's a big omission if those who have an opportunity to come Quy Nhon city do not go to Ghenh Rang to know and understand why this place is so poetic for good works.