To get to Dry Island, from Quy Nhon, tourists can drive motorbikes or cars across Thi Nai Bridge, across Nhon Hoi Economic Zone, along Mai Huong Bay and pass a few kilometers to the fishing village of Nhon Hai commune. Here, you can rent a canoe or boat to serve tourists to the island about 5-10 minutes. Feeling bloated, floating on the train travel in the middle of the sea will bring many emotions extremely enjoyable for visitors. Before reaching the island about 500m, visitors will be indulged in blue waters to explore the colorful coral reefs below. Especially the water here is quite shallow, children from 8 years old and up, no need to swim can also see the coral reefs. And many tourists have said: "Diving coral is a specialty tourism only in Dry island."
Blue water at Dry Island; photo: BTPI center
Leaving the coral reef with colorful fish swimming, the boat will take visitors to the island. Dry Island is the name of its, dried, not much green trees, no coconut tilting inclined charm but the scenery here is very beautiful wild. Interbed between rocky cliffs protruding into the sea are many sandy smooth flat, attractive. Four seasons in the island are four seasons of sea breeze play each other jostling to the cliff. The silver waves seem to be more interested in shaping the rocks, they are hardworking on the night of the day, trimmed the stone so soft that crumpled, tilted. You can spend hours on the golden sand beach and enjoy the fresh seafood: shrimp, crabs, crabs, fish, squid, ... by people to catch, processing on demand.
In particular, Dry Island is a marine turtle conservation area with turtles spawning grounds. For a long time, in the small sand beach in the middle of the island is a place to reproduce the familiar turtle family (folk or called turtles, turtles). As the season progresses, sea turtles turn straight into the sandy beach of Dry Island. If you have the opportunity to stay at Dry Island at night, lucky visitors will be able to witness the scene lay eggs of the sea turtles.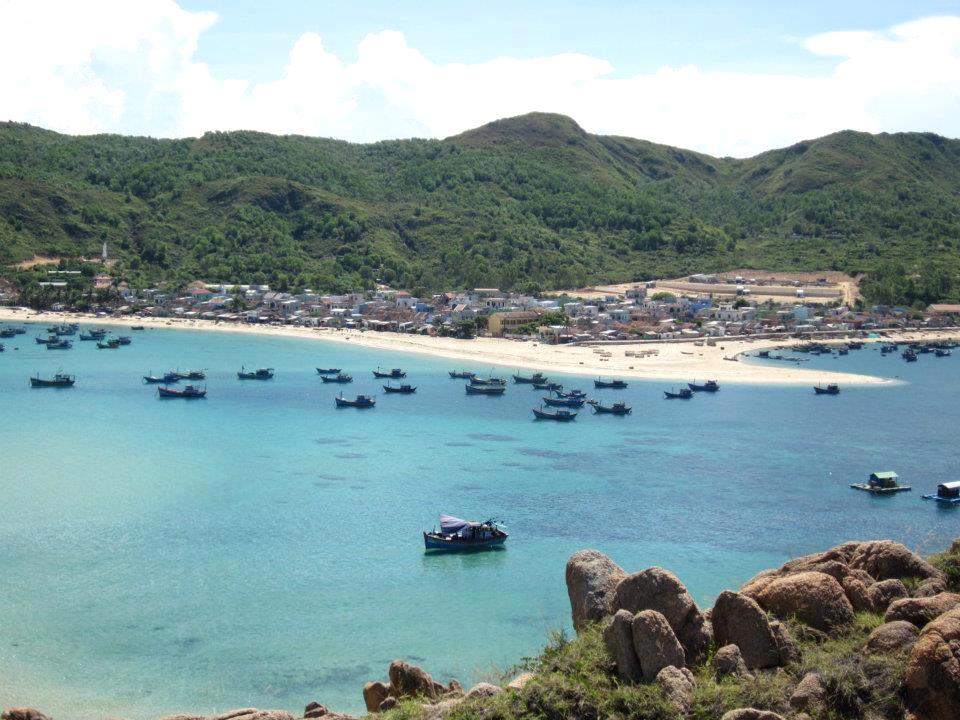 Nhon Hai Fishing Village; photo: BTPI center
Continue walking around the island, tourists will be completely conquered by beautiful beauty, unique island of nature here. With large and smooth stone slabs standing in front of visitors is part of Dry Island. The road ahead is difficult as the mountains stacked on top of each other. The scenery is wild, but the beauty of the sea will motivate many adventurous travelers to climb to the top of the mountain. From above a sea of thousands of thousands of clearly visible in the eyes of visitors. Underneath the island, each fishing boat tied together to form a beautiful picture. In the distance, the panorama of Quy Nhon city is narrowed down.