The name of wine is mainly cooked from Cu Lam village, Nhon Loc commune, An Nhon district, Binh Dinh province. Bau Da is name of an ancient water bowl used by the village as a water source to distilling Bau Da wine. The ancient water bowl has dried up now, the main water source for fermenting and distilling wine is now from the wells of village.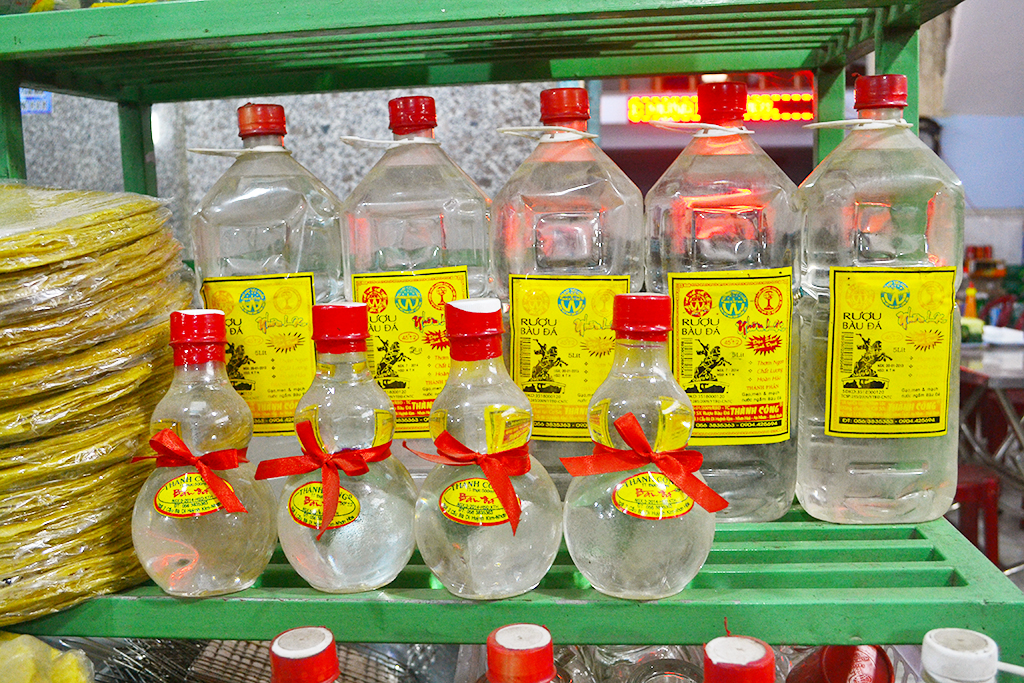 Bau Da wine of Binh Dinh
To have good wine, the cook must comply strict requirements about water, rice, ferment, cookware and traditional experience.
To have a liter of delicious Bau Da wine, the cooking process is very carefull: wine is cooked with brown rice, about 5kg (to make 3,5-4 liters of wine) takes 6 hours. The utensil used for cooking are made of porcelain, glass and bamboo which have a distinctive flavor. Distilling process is not in hurry, using small fire to squeeze the essence of rice. Brewers who have many years of experience do not taste wine can also appreciate the quality of wine by listening to the sound of drops in the jar of distillery and wine flavor fleeting. Alcohol has a very high concentrations, over 50 degrees.
Nowadays, the wine- making movement in craft villages develops strongly, but quality is decreasing. However, there are families who keep the tradition of cooking and giving good quality.
Entrance of Bau Da wine village in Binh Dinh