Binh Dinh is province in the South Central coast region of Vietnam, a tropical monsoonal climate area. The average temperature is 27.4 degree C (at highest: 39.1 degree C and at lowest of 15.5 degree C). The average moisture is: 80% and the average annual rainfall is: 1,935mm (at maximum: 2,647.4mm and at lowest: 1,339.7mm). Binh Dinh has total natural area of 6,025 sq.km and a population of over 1.500.000 people. It is bordered by Quang Ngai Province to the north, Phu Yen Province to the south, Gia Lai Province to the west, and by the East Sea to the east, I1,065km North of capital city of Ha Noi, 686km south of Ho Chi Minh City, 300km of Da Nang city and 300km east of Bo Y International Border Gate (in Kontum Province) to Laos. Binh Dinh is one of five key economic regions of the Central Vietnam together with Thua Thien - Hue, Quang Nam, Quang Ngai Da Nang. Binh Dinh is lies in center of transnational communications from North to South (including 3 routes of National Highway 1A, railway throughout Viet Nam and domestic airline), it is the closet and most convinient seaport for Tay Nguyen (Central highlands), southern Laos, northseast Cambodia and Thailand (by Quy Nhon international seaport via National route 19). With Phu Cat airport, travelling between Binh Dinh and Ho Chi Minh city takes 1 hour and 2 hour to Ha Noi. In the fututre, Nhon Hoi seaport (belongs to Nhon Hoi Economic zone built completely infrastructure transport, creating for Binh Dinh an advantage to excel in regional exchanges and international.
Quy Nhon city is the cultural, economic and political center of Binh Dinh province. Quy Nhon, Da Nang and Hue is identified as one of international trading, service and commercial centers, of both the central and Central Highlands regions.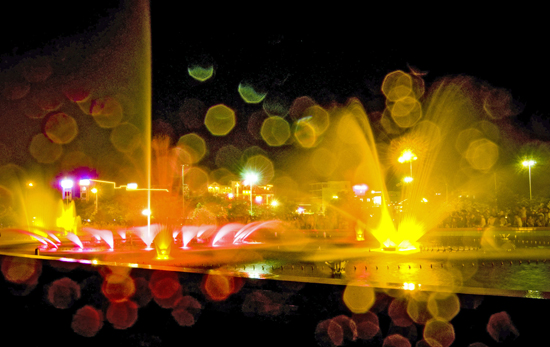 Binh Dinh is the preserve of many cultural and architectural vestiges of Champa culture, especially Do Ban Citadel and Cham towers (including eight clusters and 14 towers in all) with unique architecture. It is the cradle of the Tay Son Peasant's Revolution in late 18th century with the astounding glory of National Hero Nguyen Hue – Quang Trung. It is also the birthplace of many famous men and women of arts and literature such as Dao Duy Tu, Tang Bat Ho, Dao Tan, Han Mac Tu, Xuan Dieu, Che Lan Vien, Yen Lan, etc... Several traditional art forms like Tuong and bai Choi originated from the area.
Binh Dinh has a long coastline of 134 km and several bays with beautiful sand beaches and plenty of scenic landscapes captivating the eyes of viewers and holidaymakers: Tam Quan, Tan Thanh, Vinh Hoi, Trung Luong, Hai Giang,...
Traditional festivals: Cho Go Festival, Phuong Danh Forge Village, Bang Chau Brass MoldingVillage , festivals at NuocManTown and local residents, bufalo stabbing festival, Do Gian festival,...
Cuisine: including rice vermicelli with pork intestines, sticky rice rolled in pinnte leaves, Bau Da wine, Huyen market's fermented pork, coconut gridle cakes, Quy Nhon roasted fish with rice vermicelli...and many famous specilities.