On the afternoon of April 17, 2018, at Hoang Yen Hotel, Binh Dinh Tourism Association solemnly held a ceremony to announce the decision to establish Binh Dinh Tour Guides Branch of Association. Attending the ceremony were: representatives of the Department of Tourism, Executive Board of Binh Dinh Tourism Association, media agencies, leaders of training institutions, tourism business units and a large number of domestic and international tour guides in Binh Dinh.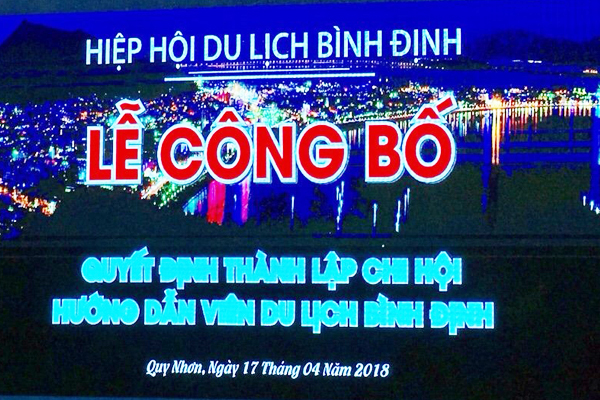 Announcement of lauching Binh Dinh tour guides branch of Association; photo: Thu Trinh-BTPI center
With the aim to create a linking for tour guides and businesses, to demand of supply between human resources and employment, to support the instructor's capacity to improve professionalism, to raise the sense of responsibility. to customers and create high quality tourism products; The ceremony announced with more than 30 registered participants. The convergence of tour guides and tour operators is an important turning point for the connection between tour guides and tour guides of travel companies in province.
Excutive Board of Binh Dinh Tour Guides Branch of Association; photo: Thu Trinh-BTPI Center
At the ceremony, Mr. Huynh Cao Nhat, Deputy Director of the Department of Tourism, delivered a speech on provincial tourism activities and disseminated new points in the Law on Tourism 2017 and regulations on the practice of guides.
It is hoped that the establishment of the Branch will be a precursor to the quality of Binh Dinh tour guides in the coming time