On the morning of March 29th, 2018, at the ICE International Centre for Exhibition, 91 Tran Hung Dao Street, Hoan Kiem District, Hanoi had the Opening Ceremony of the sixth of Vietnam International Travel Mart - VITM Hanoi 2018. The event is organized by Vietnam Tourism Association, People's Committee of Hanoi and VNAT jointly held from March 29th to April 1st, 2018. This is the largest annual international tourism event in the region. The organizer of VITM 2018 has chosen "Tourism online, tourism Vietnam toward the industrial revolution 4.0" as the theme.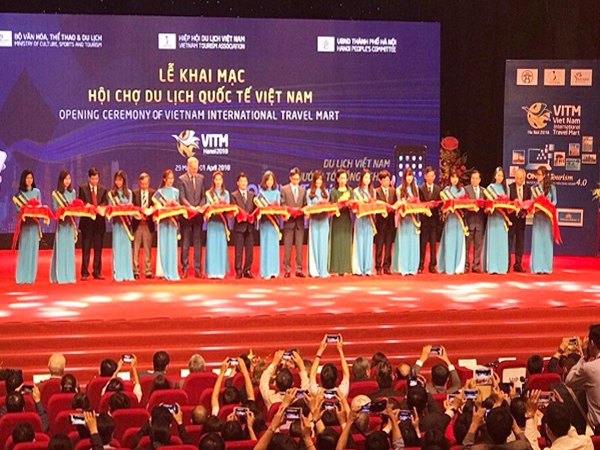 Opening ceremony of VITM 2018; photo: Le Trinh-BTPI center
This year's event attracted the participation of tourism promotion agencies from 43 provinces and cities nationwide and 18 countries and territories with more than 600 booths invested in building regulations. to seek opportunities for promoting, linking, buying and selling tourism products, calling for tourism investment for local and national. Specifically, in order to promote the application of information technology in tourism business and modernize tourism activities of tourism enterprises, the mart has reserved an area of over 40 booths of Online travel agencies, units providing technological solutions for tourism with many attractive and impressive activities. It is expected that the trade fair will attract over 60,000 visitors and purchase tourism products.
To promote the brand, advertise the tourist image of Quy Nhon - Binh Dinh to tourism businesses, domestic and foreign investors, and seek partners to develop and connect tours to collect. attracting more domestic and international tourists to Quy Nhon - Binh Dinh; BTPI center had a booth promoting the tourism image of the province at VITM 2018 with the theme "Quy Nhon - Binh Dinh Tourism, Back to Memorial Sea City " In addition to the the host this year's mart brings together 10 tourism enterprises in Binh Dinh: Hoang Yen Hotel, Bai Dai Area Co., Ltd/ AVANI Quy Nhon Resort & Spa, Royal Hotel & Healthcare Quy Nhơn, GoldenLife Travel Co., Ltd, Quy Nhơn Heavens Tours Co., Ltd, Thanh Linh Quy Nhơn Investment JSC, Central VietNam Tourism Co., Ltd, Quy Nhơn Tourist JSC, An Tin Travel Binh Dinh, Hoàng ĐạtTravel JSC.
Delegates had photo at the booth of Quy Nhon-Binh Dinh Tourism; photo: Le Trinh-BTPI center
Visit the booth of Binh Dinh, tourists are introduced tourism products through photos, publications, local specialties and are guided by the tour business on typical attractive tour services. Through the promotion, meeting and offering, more than 9,000 visitors have come to visit, buying products and services - tourism, learning about Binh Dinh Tourism at the booth every day. In addition, Binh Dinh businesses have the opportunity to exchange and learn more useful experience, contributing to affirming the position and brand Binh Dinh tourism in the domestic and international tourism market.
As an outstanding annual event of Vietnam tourism, over 6 times, VITM Hanoi has affirmed its role and position in promoting tourism and has attracted a large number of visitors. of the units, tourism enterprises in and outside the country.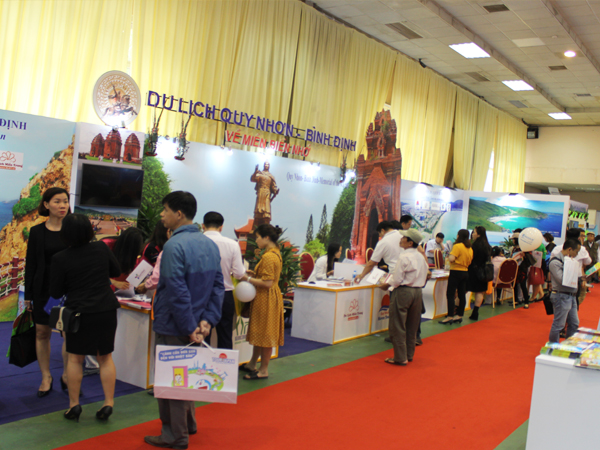 Tourisits visit Quy Nhon-Binh Dinh's booth; photo: Le Trinh-BTPI center