Ham Ho tourist area is located in Phu My village, Tay Phu commune, Tay Son district, about 50km northwest of Quy Nhon city. Ham Ho is the meeting point of 2 branches of revers Dong Huu and Kut into Phu Phong river, scenery is a long 3km river, two sides are block of stones, some are cliff, some pile up together, some sharp stones as sword. Myrtly bushes, violet flowers mixed with orchids clusters on the cliff. Among them are old trees with falling roots as hair, reflecting the shadow to shining water where fish swim.
Ham Ho scenery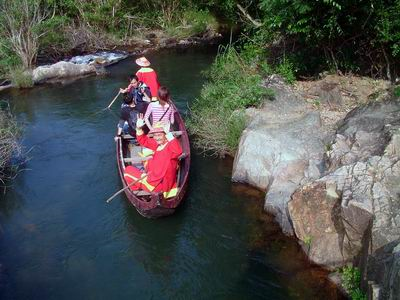 On boats to discover Ham Ho- photo: Phuong Nghi
However, the real beauty of Ham Ho is the creativity of nature just beneath the river with much of marble pillars with many forms, in dry autum; the sky is blue, when the sun rays shine down to marble masses of brilliant colors, like tthousands of diamonds in clear blue water. Each pillar has each shape, to let tourists imagine. River water flows along the rapids with romatic and historic sites such as: Da Thanh, Da Ban Co (Chess board stone), Da Chum, Da Dung, Da Trai, Cua Sanh (born gate), Cua Tu (death gate), Thac Ca Bay (flying fish waterfall), Vung Ca Roi (Roi fish pond), Hon Trao, Hon Lo Ruou, Dau Chan Khong Lo (giant footprint)… always make tourists feel cool, freshing… It can be said that the scenery of Ham Ho is "picturesque painting", keep going and see attractive landscape, wild scene, bird chirping to make life more interesting.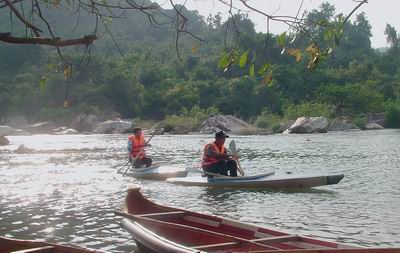 Tourists row boats by themselves to feel romantic beauty- photo: Khue Viet Truong
Tourists can come to Ham Ho at any time, but the most beautiful time is season of Asian barringtonia bloom. Sitting in "Asian barringtonia" restaurant and sightseeing over the forest and Ham Ho streams. Tourists can enjoy specialities such as: shell or Muong fish fried mixxing vegetable leaf roll with girdle cakes. Even, tourists can fishing fresh fish by themselves and enjoy the results, listening birds singing, and waterfall falling to feel natural beauty of this place.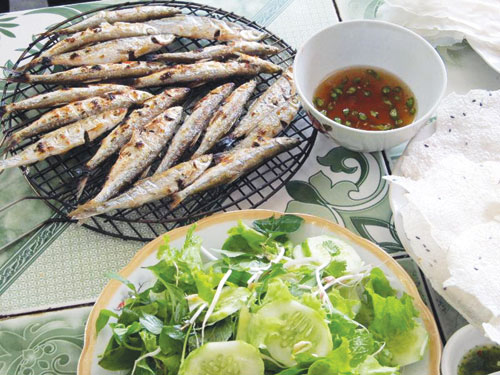 Speciality of Ham Ho: Muong fish- Photo: Tuy An
In the hot summer, coming to Ham Ho for camping, enjoying fresh air of the moutain, tourists will have moments of relaxtion, and enjoy specialities food of Tay Son land, Binh Dinh.