Binh Dinh, the capital of Champa Kingdom is famous for its unique towers and clusters. Twin Towers is one of them, located in Dong Da Ward, in the center of Quy Nhon city. Under Champa Dynasty, Cham Towers were named originally of Cham language such as Po Nagar, Po Rome, Po KlongGarai… not Vietnamese names. Twin Towers was ranked as a national architectural monument on July 10th 1980 and it was voted in Cham towers population which the most tourist visited by Viet Nam Record Association, announced on November 22nd 2014.
Twin Towers have been restored many times, reinforced, anti-degradation untill 2008 is now complete. This is the first Cham clusters of Binh Dinh which was completely restored and put into exploitation, promoting the effect of serving tourists.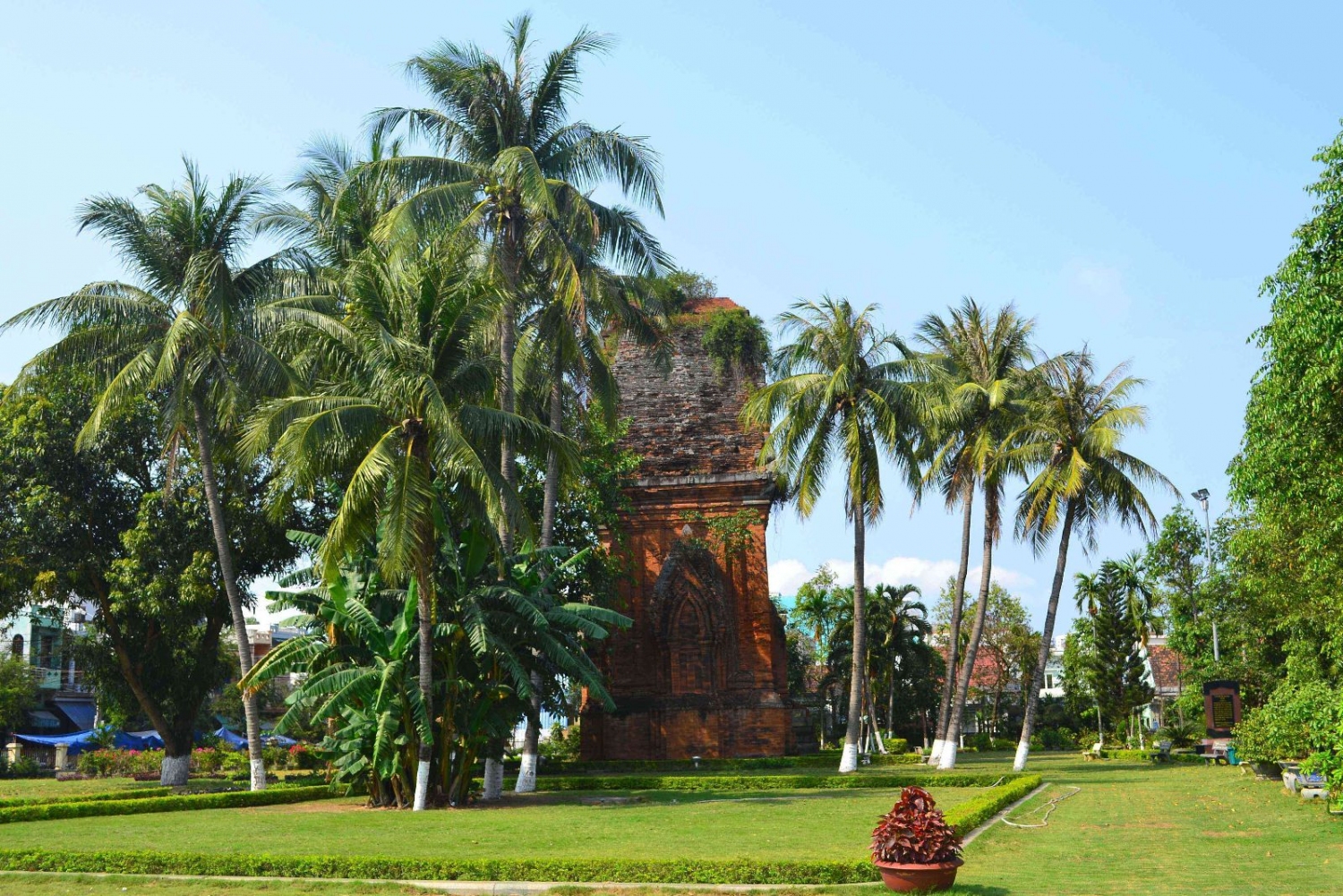 One side of Tower
It can be said that Cham Towers relics on Binh Dinh land, in term of historical perspective is among the middle period of Champa kingdom, the material is called Vijaya period, from 1000-1471. Twin Towers date from XI century to XIII century, considered one of the most beautiful towers of Champa architectural art- a unique architectural structure consisting 2 towers: main tower is 20m high and auxiliary tower is 18m high.
Looking at two towers, they have fully architectural features of Champa people in Binh Dinh: the main door is East, three other sides are fake doors, the arch on the top is soaring up and spear shape, pillars along the wall are smooth, middle edge is higher and no patterns on the wall. However, the difference of this relic tobe ranked in "unique" that two towers are not square towers with multi-tiered by tradition of ancient Champa towers, which are made up with 2 main parts: Square body and curly top, the conners are carved statues of Garuda god, two hands raised up as supporting the big tower. This architecture is strongly influenced by Indian architecture. This is also a tower built not on a hill area as usual, but surrounded by crowded residential area.
The main side of tower
Due to the influence of Khmer architectural art, using stone material in architecture is quite a lot. The Eastern doorway is stone, the wall of tower is bundled by big stones to show a giant lotus tower supporting whole tower, the roof is made of stone and decorated with dancing monkeys, mythical creatures like lion with elephant's head (Gajashimha). Four conners of the roof are four stone statues of Garuda god.
Twin Towers is not only a place for researchers of Southest Asian culture and history, Champa culture continues to research, explore the unique but also an attractive destination for tourists coming to Binh Dinh.