Sitting between the busy coastal hotspots of Nha Trang and
Hoi An
, Quy Nho'n is a relatively unknown, quiet beach town. The intense resort development seen in the country's more popular seaside locations has yet to reach this region, making for a laidback atmosphere and the perfect place for a relaxed getaway.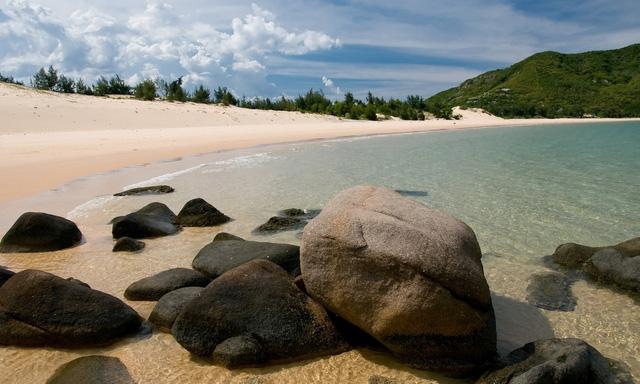 Boulder choice … the relatively unknown Quy Nho'n neighbourhood has some of Vietnam's best beaches. Photograph: VuCongDanh/Getty Images
beaches. Photograph: VuCongDanh/Getty Images
Despite its humble modern appearance, for centuries the area around Quy Nho'n was once the centre of the Cham empire, which ruled what is today southern Vietnam. The most visible reminders of this period are the
Thap Doi towers
, in a small park in the city, which are well worth a visit.
Quy Nho'n's residential and commercial areas run right up to the long, broad, sandy beach, which curves around a bay, with low hills visible to the north. A major street separates the beach from the town, and there are a few cafes and bars right on the sand.
About 15km south of Quy Nho'n is
Bai Xep
, reachable by bus, taxi or motorbike. This tiny town is home to an up-and-coming travel community that slows the pace down even further. There are few better ways to enjoy a beach in Vietnam than whiling away the days with fresh seafood and an ice-cold beer beside the waves here. The eateries in Bai Xep's fishing village offer similar menus – a whole grilled fish is always a good choice.
My preferred place to stay is
Haven Guesthouse
(B&B doubles from £24 a night), which offers simple, friendly accommodation right on the beach. It offers snorkelling trips to nearby islands (£4 each, minimum four people) where the water is clearer and you can see all kinds of colourful fish and sea creatures. Don't expect the huge coral formations of the Philippines or Indonesia, but this is great snorkelling for Vietnam.