It takes about one hour to flight from Ha Noi or HCMC to Binh Dinh, or six hours by bus/cars from Nha Trang or Hoi An, two beautiful other palces on the road Southern Heritage of Viet nam. From Binh Dinh, tourists move easily to Central Highland, even or to Campuchia and Laos. Tourism in Quy Nhon improves more and more, but this lovely city do not only influence by model activities but also be a new destinations of many tourists.
Majestic nature in your eyes
Long beaches around Quy Nhon has natured sandy and charming landscapes for the whole city.
From centre, going about 3km through streets with orchids and daisy, tourists come to Ghenh Rang where is under Xuan Van moutain.
Quy Nhon Beach
From Ghềnh Ráng, tourists easily walk to Queen Beach, the grave of Hàn Mặc Tử poet, Vong Phu Hill, Tien Sa Beach, Phuong Mai Penisula...
Across Thi Nai Bridge, the first longest bridge acrossing sea of Viet nam, tourists will come to Eo Gio- the best place to see sunset in Viet Nam. Or coming to sandy hills in Phuong Mai Penisula to see over 100m sandy hills.
Quy Nhơn Beach
The Gate to ancient Kingdom
With one day journey, tourists can come to Twin Towers or Silver Tower ( It Tower), important ancient relics of Champa which deeply influeneced to cultural native from XI century.
Emperor Palace or Do Ban Citadel (named Vijaya in the reign of Champa Kingdom), Binh Dinh Museum and Long Khanh Pagoda are also impresive destinations in the journey to Quy Nhon.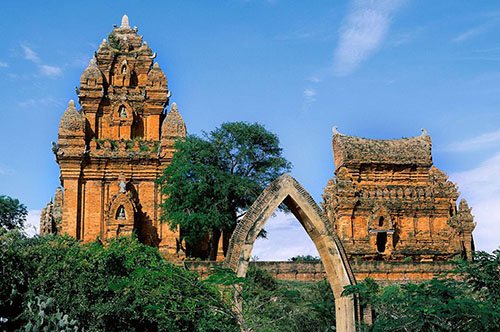 Silver Tower (It Tower)
For those who care to religion and history, visiting Quang Trung Museum or God Worshipping Palace in An Son Moutain.
Peacful Fishing Villages
Located on Phuong Mai Penisula, Nhon Ly, Nhon Hoi and Nhon Hai Fishing Villages own the pictureques landscapes with majestic nature and huge fields.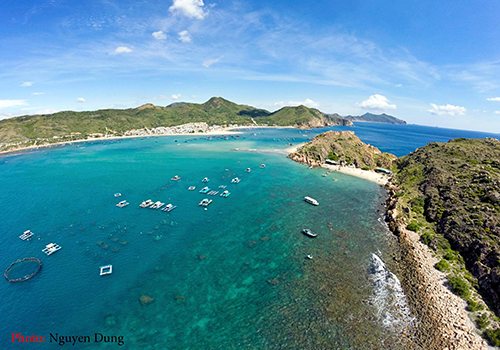 Peacfull Fishing Village
Local Cuisine
Quy Nhơn is wonderful place for seafood believers. Everyday, this city supplies many fresh seafoods, among them are Huynh De Crab, lobsters, tiger prawn... That's a pity if tourist don't try a cuisine journey around traditional markets in Quy Nhon to enjoy Quy Nhon roasted fish with rice vermicelli.... and buy some dry seafood for gifts.
Jumping shrimp pancake- a speciality of Quy Nhon- Binh Dinh