The cuisine of Binh Dinh is characterized by the "land of Martial Arts" expressed through its distinctive flavor with spicy, salty and low fat foods. Typical of the famous dishes in Binh Dinh, first of all, is fermented pork of Huyen Market. Not too sour like fermented pork of Thanh Hoa, not too sweet like Ninh Hoa - Khanh Hoa, fermented pork of Huyen Market is very strange. Especially, when you bite in the first you will feel crispy crunchy, and when chewing will be sour, fat plus the smell of garlic, spicy pepper on the nose. However, to have delicious fermented pork, processing is very important. Blending, wrapping must be carefull measure fermented pork to maturity, when opening the leaves, fermented pork are pink ball, spring rolls are eaten with herbs, can roll with rice paper. Fermented pork of Huyen market is full of salt, sweet, sour and very delicious so even if you eat too much boring. Diners enjoying the sample of spring rolls with a glass of Bau Da wine is not anything excellent.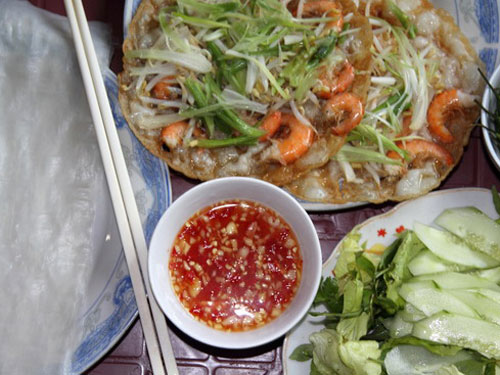 Jumping Shrimp Pancakes; Photo: BTPI Center
However, some people said: "Coming to Binh Dinh without eating jumping shrimp pancakes My Cang is considered tobe not here". Why pancakes My Cang left the mark in the heart of Binh Dinh? Even know that each region has its own processing: central pancakes, southern pancakes, western pancakes. Even in Central Vietnam, Hoi An pancakes are different from Phan Rang pancakes. Particularly, jumping shrimp pancakes My Cang, which makes the difference with other localities is the "shrimp" - fresh jumping shrimp. Shrimp must be still alive in Go Boi, not too small or too large will ensure the delicious pancake flavor. The rice flour used to make the cake must be hand-made with a traditional stone moulder from the eastern field, then add some finely chopped onion to add flavor to the cake. Sauce must be made from garlic and the same type of fish sauce. The sweetness of fresh shrimp, crispy rice fire enough and a little sour, chewy mango and banana chattering, all blended into a very attractive dish.
Only these food make tourists just want to come to Binh Dinh immediately. Coming to Binh Dinh the land of Martial Arts as well as to the blue sea, white sand with the beach stretching the eyes of visitors, where you can enjoy more fresh seafood specialties, especially Quy Nhon roasted fish with vermicelli is not only recognized by the Vietnam Record and established as one of the 50 famous dishes in Vietnam which making the brand name for Quy Nhon roasted fish is fried fish. The fish must be made from stout, must be soaked in a small piece of cake, then small round or small circle round, cover with a thin layer of egg and fry or steam. Along with the soup of noodles is cooked from the bone and the fish mash is sprouting meat, add a little mushrooms, dried bamboo shoots, a little cow bone or pig bone to add natural sweetness. Quy Nhon roasted fish with vermicelli is soft, delicious, cool of rice grains, sweetness of bone, fatty flavor, vermicelli color, small and soft noodles thread, just see the bowl noodle is enough to see the sophisticated in the meal of Quy Nhon people.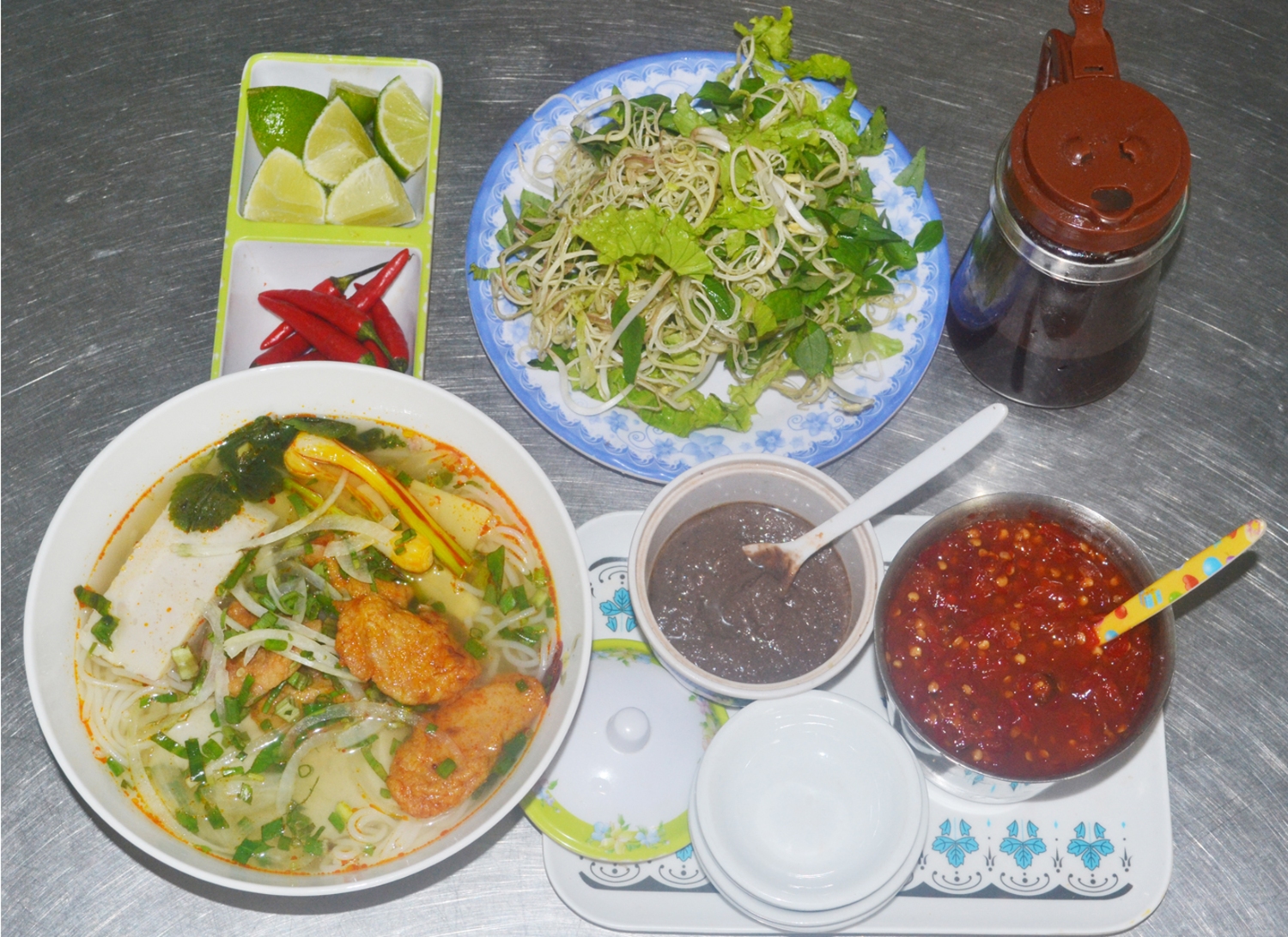 Quy Nhon roasted fish with vermicelli; photo: BTPI Center
Talking to Binh Dinh's cuisine, we can not ignore the famous specialty Bau Da wine. Bau Da wine is called "The best wine" of Vietnam. Unlike other wines, Bau Da wine when drink finished, we find the sweet smell, aroma hard to describe and especially after drinking you do not have a headache. All create unique features for the brand Bau Da wine has existed for centuries. Not only that, the famous Bau Da wine is also in the method of crafting wine with many meticulous steps. Bau Da wine must be distilled from rice and cool ground water from Bau Da hamlet, Cu Lam village, Nhon Loc commune, An Nhon town. It takes up to 6 days for a batch of wine (a cooking pot). Start by choosing rice and sticky rice. Each batch uses about 7.0 kg of rice. The rice was mixed with glaze to be brewed, after 3 days to get the aroma of wine yeast, processing into 16 liters of water from the groundwater Bau Da village, continoue in 2 days, when open the stew silage aromas of wine gives you a sense of ecstasy. Bring the rice to the boil for 5 hours, the alcohol is distilled through a bamboo tube connected from the pot to the condenser (with water cooled condenser). One batch can produce about 4 liters of pure alcohol. Especially Bau Da wine is so long more delicious, drink as deep, the more refreshing. If you drink only one or two cups a day, it will make you feel good and comfortable. It will help you to get better digestion, better health and stronger body.
Bau Da Wine; photo: BTPI Center
Besides these food, Binh Dinh has many famous dishes that tourists should enjoy. Those are It cake with pinnate leaves, gíe (an internal part organ of cow), Tay Son sugar - cane bird, Chau Truc Black eel or Phu My shrimp noodles. In particular, It cake with pinnate leaves has been granted by the National Office of Intellectual Property (Ministry of Science and Technology) collective mark with value from 2017 to 2026.
Coming to Binh Dinh, if tourists do not enjoy It cake with pinnate leaves, My Cang jumping shrimp pancake, Quy Nhon roasted fish with vermicelli, drinking Bau Da wine cups as visitors have not yet come to "the land of Martial Arts".